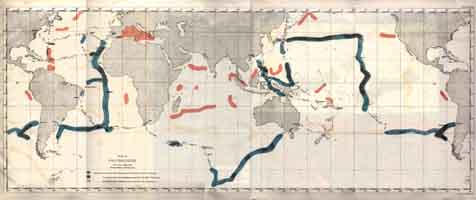 MAP SHOWING THE VOYAGE OF H.M.S. CHALLENGER
AND THE GEOGRAPHICAL DISTRIBUTION OF THE RADIOLARIA

The Following maps are jpeg files, but they may not display correctly due to their large size.
They may be copied to the desktop (option+click) and viewed under a graphics display package such as Adobe Photoshop.

prepared August, 2001,
by David C. Bossard
from original documents in the
Library holdings of Dartmouth College
Hanover, New Hampshire
Text Images added July, 2003
Copyright © 2003 by David C. Bossard. All rights reserved.
Permission is granted to make single copies for personal, non-commercial use.